Salta il contenuto e passa al menu a fondo pagina
You are here:
Home

Staff

List of Personnel

Stefanni Sergio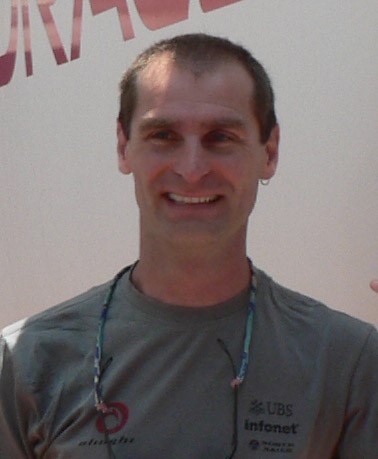 Reseracher
Biology and Evolution of Marine Organisms Department
Stazione Zoologica Anton Dohrn
Villa Comunale
80121 Naples - Italy
Tel.: +39 081 5833228
Fax: +39 081 7641355
E-mail: sergio.stefanni(at)szn.it
Contatto Skype: wkdsurfer
Research Interests
My research interests are molecular ecology, population genetics and phylogeny of marine organisms. I study mainly fish and sharks, from coastal to the deep-sea, with the focus on cryptic species and provide novel molecular tools for fishery and conservation management strategies. I am applying a seascape genetics approach to evaluate the interactions between oceanography and temporal as well as spatial variation in allele frequencies. I am also using genomics for a better understanding of speciation processes and transcriptomics to explore genes that better respond to adaptation to environmental changes as well as understanding mechanisms of adaptation to extreme environments (deep sea environments and hydrothermal vents) using high throughput sequencing platforms. I also recently studied marine mesozooplankton diversity of the Adriatic Sea by metabarcoding and contributed to the development of an autonomous biosampler, while at CNR-ISSIA. During my career I have gained a wide experience in research cruises joining several expeditions in the Atlantic and the Mediterranean (some of which as Chief scientist) and as Principal Investigator in international projects.
Journal Papers
Catarino D., Knutsen H., Veríssimo A., Olsen E.M., Jorde P.E., Menezes G., Sannæs H., Company J.B., Neat F., Danovaro R., Dell'Anno A., Rochowski B., Stefanni S. 2015. The Pillars of Hercules as a bathymetric barrier to gene-flow promoting isolation in a global deep-sea shark (Centroscymnus coelolepis). Molecular Ecology 24: 6061-79.
Stefanni S., Castilho R., Sala-Bozano M., Robalo J.I., Francisco S.M., Santos R. S., Marques N., Brito A., Almada V.C., Mariani S. 2015. Establishment of a coastal fish in the Azores: recent colonisation or sudden expansion of a relict population? Heredity 115: 527-537.
Stefanni S., Bettencourt R., Pinheiro M., Bongiorni L., Pallavicini A. 2014. Transcriptome of the Deep-Sea Black Scabbardfish, Aphanopus carbo (Perciformes: Trachiuridae): Tissue-Specific Expression Patterns and characterization of depth-related functional genes. International Journal of Genomics 2014: Article ID 267482, 1-21. doi:10.1155/2014/267482.
Longmore C., Trueman C.N., Neat F., Jorde P.E., Knutsen H., Stefanni S., Catarino D., Milton J.A., Mariani S. 2014. Oceanic scale connectivity and life cycle reconstruction in a deep-sea fish; Aphanopus carbo. Canadian Journal of Fisheries and Aquatic Sciences 71: 1-12.
Cunha R.L., Madeira C., Coscia I., Mariani S., Stefanni S., Castilho R. 2012. Ancient mitochondrial DNA divergence in the trans-oceanic deep-sea shark Centroselachus crepidater. PlosONE 7(11): e49196. DOI:10.1371/journal.pone.0049196.
Knutsen H., Jorde P.E., Sannæs H., Hoelzel A.R., Bergstad O.A., Stefanni S., Johansen T. and Stenseth N.C. 2009. Bathymetric barriers promoting genetic structure in the deepwater demersal fish tusk (Brosme brosme). Molecular Ecology 18: 3151-3162.
White T.A., Stefanni S., Stamford J. and Hoelzel A.R. 2009. Unexpected panmixia in a long-lived, deep-sea fish with well-defined spawning habitat and relatively low fecundity. Molecular Ecology 18: 2563-2573.
Stefanni S., Bettencourt R., Knutsen H. and Menezes G. 2009. Rapid PCR-RFLP method for discrimination of the two Atlantic cryptic deep-sea species of scabbardfish. Molecular Ecology Resources 9: 528-530.
Stefanni S., Porteiro F., Bettencourt R., Gavaia P. and Santos R.S. 2007. Molecular insights indicate that Pachycara thermophilum (Geistdoerfer, 1994) and P. saldanhai (Biscoito and Almeida, 2004) (Perciformes: Zoarcidae) from the Mid-Atlantic Ridge are synonymous species. Molecular Phylogenetics and Evolution 45: 423-426.
Bettencourt R., Roch P., Stefanni S., Rosa D., Colaço A., and Santos R.S. 2007. Deep sea immunity: unveiling immune constituents from the hydrothermal vent mussel Bathymodiolus azoricus. Marine Environmental Research 64: 108-127.
Stefanni S. and Knutsen H. 2007. Phylogeography and demographic history of the deep-sea fish, Aphanopus carbo (Lowe, 1839), in the NE Atlantic: vicariance followed by secondary contact or speciation? Molecular Phylogenetics and Evolution 42: 38-46.
Stefanni S. & Thorley J.L., 2003. Mitochondrial DNA phylogeography reveals the existence of an Evolutionary Significant Unit of the sand goby Pomatoschistus minutus in the Adriatic (Eastern Mediterranean). Molecular Phylogenetics and Evolution 28: 601-609 (Q1; IF: 4.018; SJR: 1.957; citations: 67).
Stefanni S., Gysel E., Volckaert A.M. & Miller P.J., 2003. Allozyme variation and genetic divergence in the sand goby, Pomatoschistus minutus (Teleostei: Gobiidae). J. Mar. Biol. Ass. U.K. 83: 1143-1149.