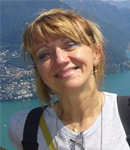 Senior Scientist
Biology and Evolution of Marine Organisms Department
Tel. +39 081 5833252
e-mail antonietta.spagnuolo(at)szn.it
Skype: This email address is being protected from spambots. You need JavaScript enabled to view it.

Google scholar: https://scholar.google.com/citations?user=b_57mxUAAAAJ&hl=iTel:
ERC sectors - Development, developmental genetics, pattern formation and embryology in animal (LS3_9), Environmental toxicology (LS8_9)
Settori scientifico-disciplinari - Biologia molecolare (BIO/11), Anatomia comparata e citologia (BIO/06)
Componenti
Research interests
Marine tunicates, as Ciona robusta, are recognized as evolutionarily significant because their tadpole larva represents a simplified body plan of chordates. This cellular simplicity, coupled with a not duplicated genome and a number of computational tools, techniques and genomic resources, makes the simple Ciona model a foundation for dissecting a typical chordate developmental program at the level of single cell resolution. One of these processes concerns the development of the eye, a very sophisticated vertebrate organ, which shows molecular and functional homologies with the simple Ciona ocellus. My studies aim at identifying new genes, activated early in development, that direct specific cells of the neural plate toward photoreceptor cell lineage, using targeted interference of markers specific of this cell type.
Based on its features, Ciona is an ideal experimental model also for ecotoxicological analyses since, with its indirect development, it permits to analyze the effects of environmental stressors on two key ontogenetic stages, the nonfeeding embryo-larvae, carrying a "simplified chordate ancestor" anatomy, and the post-metamorphic filter-feeding juvenile stages in direct contact with the external environment. Therefore, I use Ciona to inquire into the molecular mechanisms and pathways affected by antropogenic pollutants, as contaminants of emerging concerns (dispersants, nanoplastics, pharmaceuticals active compounds). The aim is to reveal, using multidisciplinary approaches, important clues about their mechanism of action and better understand their effects on organisms.
Selected Publications
Eliso, M.C., Bergami, E., Bonciani, L., Riccio, R., Belli, G., Belli, M., Corsi, I., & Spagnuolo, A. (2023). Application of transcriptome profiling to inquire into the mechanism of nanoplastics toxicity during Ciona robusta embryogenesis. Environmental Pollution, 318, 120892.
Eliso, M.C., Bergami, E., Manfra, L., Spagnuolo, A., & Corsi, I. (2020). Toxicity of nanoplastics during the embryogenesis of the ascidian Ciona robusta (Phylum Chordata). Nanotoxicology, 14(10), 1415-1431.
Hudson, C., Esposito, R., Palladino, A., Staiano, L., Ferrier, D., Faure, E., Lemaire, P., Yasuo, H., & Spagnuolo, A. (2019). Transcriptional regulation of the Ciona Gsx gene in the neural plate. Developmental Biology, 448(2), 88-100.
Esposito, R., Yasuo, H., Sirour, C., Palladino, A., Spagnuolo, A., & Hudson, C. (2017). Patterning of brain precursors in ascidian embryos. Development, 144(2), 258-264.
Squarzoni, P., Parveen, F., Zanetti, L., Ristoratore, F., & Spagnuolo, A. (2011). FGF/MAPK/Ets signaling renders pigment cell precursors competent to respond to Wnt signal by directly controlling Ci-Tcf transcription. Development, 138(7), 1421-1432.