Salta il contenuto e passa al menu a fondo pagina
You are here:
Home

Staff

List of Personnel

Marino Rita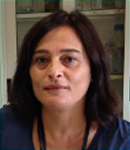 Technologist
Biology and Evolution of Marine Organisms Department
Tel. +39 081 5833429
e-mail rita.marino(at)szn.it
Google scholar: https://scholar.google.com/citations?user=09CCpbQAAAAJ&hl=it&oi=ao
ERC sector - Innate immunity (LS6_1)
Settore scientifico-disciplinare - Biologia molecolare (BIO/11)
Research interests
I obtained my PhD in Cellular and Molecular Biology and Pathology at Stazione Zoologica Anton Dohrn, Naples, with a thesis on the molecular basis of gamete self-discrimination in an insufficient marine invertebrate hermaphrodite. Then I moved my interests on the study of immune system of adult individuals of same marine invertebrate with a focus on complement proteins. Several years ago I have started a collaboration with Laboratory of Innate Immunity and Inflammation directed by Dr. Paola Italiani (CNR, Institute of Biochemistry and Cell Biology). Nowadays I am involved in a project on a comparative study of mechanisms underpinning the onset of immune memory in marine invertebrates defence activity and in human monocytes and macrophages.
Selected Publications
Auguste, M., Melillo, D., Corteggio, A., Marino, R., Canesi, L., Pinsino, A., Italiani, P., & Boraschi, D. (2022). Methodological approaches to assess innate immunity and innate memory in marine invertebrates and humans. Frontiers in Toxicology, 4, 842469.
Melillo, D., Marino, R., Della Camera, G., Italiani, P., & Boraschi, D. (2019). Assessing immunological memory in the solitary ascidian Ciona robusta. Frontiers in Immunology, 10, 1977.
Melillo, D., Marino, R., Italiani, P., & Boraschi, D. (2018). Innate immune memory in invertebrate metazoans: a critical appraisal. Frontiers in immunology, 9, 1915.
Marino, R., De Santis, R., Giuliano, P., & Pinto, M.R. (1999). Follicle cell proteasome activity and acid extract from the egg vitelline coat prompt the onset of self-sterility in Ciona intestinalis oocytes. Proceedings of the National Academy of Sciences, 96(17), 9633-9636.
Marino, R., Kimura, Y., De Santis, R., Lambris, J. D., & Pinto, M. (2002). Complement in urochordates: cloning and characterization of two C3-like genes in the ascidian Ciona intestinalis. Immunogenetics, 53, 1055-1064.