Salta il contenuto e passa al menu a fondo pagina
You are here:
Home

Staff

List of Personnel

Ristoratore Filomena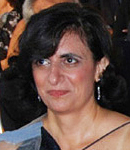 Researcher
Section BEOM
Tel. +39 081 5833251
Fax: +39 081 7641355
e-mail filomena.ristoratore(at)szn.it

Research interests
Long-term goal of my lab is to elucidate how gene regulatory networks (GRNs) control cell identities and cell behavior during development and adaptation of the organisms to environmental challenges.
To this aim we are using some marine organisms taking advantage of their different characteristics, among which the ascidian Ciona intestinalis and the cephalopod Octopus vulgaris.
Ciona embryos provide an attractive system thanks to their simplicity, ease of manipulation and extensive resources available through the web. In the simple larval brain of the C. intestinalis, two pigmented sensory organs are present: the otolith and the ocellus, considered as simple eye. Ciona pigmented cells derive from neuronal territory and are arranged in stereotyped patterns that can be interpreted clonally. So pigment cells precursors offers a model where neural patterning and cell specification can be analyzed with single cell resolution in vivo.
Cephalopod mollusks as Octopus vulgaris, from the other hand, present a centralized nervous system with highest degree of complexity unprecedented in invertebrates systems, that leads to the development of sophisticated cognitive functionality. The development and compartmentalization of Octopus brain offers a great model to study genetic bases of brain plasticity.
My research aim is focalized on the discovery of the molecular mechanisms controlling development of pigmented vs non pigmented cells in Ciona and on the elucidation molecular bases controlling formation and plasticity of Octopus brain.
My research will use molecular biology methods, including transcriptomic analysis, combined with high resolution confocal imaging.
Selected Publications
Racioppi C., Valoroso M.C., Coppola U., Lowe E. K., Brown C. T., Swalla B. J., Christiaen L., Stolfi A. and Ristoratore F (2017) Evolutionary loss of melanogenesis in the tunicate Molgula occulta. Evo-Devo; 8, 11.
Coppola U, Annona G, D'Aniello S, Ristoratore F (2016) Rab32 and Rab38 genes in chordate pigmentation: an evolutionary perspective. BMC evolutionary biology 16 (1).
D'Agostino) Y, Locascio A, Ristoratore F, Sordino P, Spagnuolo A, Borra M, (2016) A Rapid and Cheap Methodology for CRISPR/Cas9 Zebrafish Mutant Screening. Molecular biotechnology 58 (1), 73-78.
Brozovic M, Martin C, Dantec C, Dauga D, Mendez M, Simion P, Percher M, Laporte B, Scornavacca C, Di Gregorio A, Fujiwara S, Gineste M, Lowe EK, Piette J, Racioppi C, Ristoratore F, Sasakura Y, Takatori N, Brown TC, Delsuc F, Douzery E, Gissi C, McDougall A, Nishida H, Sawada H, Swalla BJ, Yasuo H, Lemaire P. ANISEED. (2015). A digital framework for the comparative developmental biology of ascidians. Nucleic Acids Res. 2015 Sep 29. pii: gkv966.
Crocetta F, Marino R, Cirino P, Macina A, Staiano L, Esposito R, Pezzotti MR, Racioppi C, Toscano F, De Felice E, Locascio A, Ristoratore F, Spagnuolo A, Zanetti L, Branno M, Sordino P. (2015) Mutation studies in ascidians: a review. Genesis. DOI: 10.1002/dvg.22837
Esposito R, Racioppi C, Pezzotti MR, Branno M, Locascio A, Ristoratore F, Spagnuolo A (2015) The ascidian pigmented sensory organs: structures and developmental programs. Genesis. DOI: 10.1002/dvg.22836.
Racioppi C., Kamal A. K., Razy-Krajka F., Gambardella G., Zanetti L., di Bernardo D., Sanges R., Christiaen A. L. & Ristoratore F. (2014) Fibroblast growth factor signalling controls nervous system patterning and pigment cell formation in Ciona intestinalis. Nature Communications, 5:4830;| DOI: 10.1038.
Stolfi A., Lowe K E., Racioppi C, Ristoratore F., Brown C T, Swalla J B, Christiaen L (2014) Divergent mechanisms regulate conserved cardiopharyngeal development and gene expression in distantly related ascidians. eLife 2014;3:e03728. DOI: 10.7554
Russo MT, Racioppi C, Zanetti L, Ristoratore F. (2014) Expression of a single prominin homolog in the embryo of the model chordate Ciona intestinalis. Gene Expr Patterns. 2014 May;15(1):38-45. doi: 10.1016/j.gep.2014.04.001

Sorrenti G, Bagnoli A, Miraglia V, Crocetta F, Vitiello V, Ristoratore F, Cirino P, Sansone G, Sordino P. (2014) Investigating sperm cryopreservation in a model tunicate, Ciona intestinalis sp. A. Cryobiology. pii: S0011-2240(13)00423-9. doi: 10.1016/j.cryobiol.2013.11.005

Esposito R, D'Aniello S, Squarzoni P, Pezzotti M R, Ristoratore F, Spagnuolo A. (2012). New Insights into the Evolution of Metazoan Tyrosinase Gene Family. Plos one 7, 4: e35731

Squarzoni P, Parveen F, Zanetti L, Ristoratore F, Spagnuolo A. (2011). FGF/MAPK/Ets signaling renders pigment cell precursors competent to respond to Wnt signal by directly controlling Ci-Tcf transcription. Development. 138, 1421-1432.

Sordino P, Andreakis N, Brown E, Leccia N, Squarzoni P, Tarallo R, Alfano C, Caputi L, D'Ambrosio P, Daniele P, D'Aniello E, D'Aniello S, Maiella S, Miraglia V, Russo M, Sorrenti G, Branno M, Cariello L, Cirino P, Locascio A, Spagnuolo A, Zanetti L and Ristoratore F. (2008) Natural Variation of Model Mutant Phenotypes in Ciona intestinalis. Plos one 4;3(6):e2344.

Zanetti L, Ristoratore F, Francone M, Piscopo S, Brown ER (2007). Primary cultures of nervous system cells from the larva of the ascidian Ciona intestinalis. J Neurosci Methods. 165, 191-197.