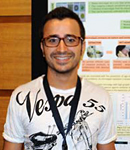 Researcher
Marine Biotechnology Department
Stazione Zoologica Anton Dohrn
C.da Torre Spaccata
87071 Amendolara (Cs) - Italia
e-mail christian.galasso(at)szn.it
Skype: chrisalentin
Research interests
I started my academic career with strong admiration and curiosity for the biotechnology research. During the PhD years (2014/17) the project focused on still unexplored marine environment, which is a new source for biotechnology. My research activity focused on Marine Biotechnology and, in particular, on the identification of new natural compounds from marine micro- and macroorganisms, with potential application for pharmaceutical industry. At present, I am a Post Doc involved in a project for the identification of natural compounds from marine ecosustainable sources, with applications for nutraceutical and cosmeceutical industries. My experimental activities are mainly based on biological assays, through the use of several human cell lines. These in vitro systems are fundamental to test antiproliferative, antioxidant, neuroprotective, anti-inflammatory, antioobesity and antiaging effects. Moreover, I evaluate the activation of main pathways involved in above mentioned cellular effects, through molecular and biochemical approaches. These studies lead to the identification of main factors responsible of the signal transduction cascades, activated by pure marine compounds in human cells.
Selected Publications
Christian Galasso, Ida Orefice, Alfonso Toscano, Tomás Vega Fernández, Luigi Musco, Christophe Brunet, Clementina Sansone, Paola. Cirino. Food Modulation Controls Astaxanthin Accumulation in Eggs of the Sea Urchin Arbacia lixula. Marine Drugs 16 (186),2018
Clementina Sansone, Genoveffa Nuzzo, Christian Galasso, Raffaella Casotti, Angelo Fontana, Giovanna Romano, Adrianna Ianora. The Marine Dinoflagellate Alexandrium andersoni Induces Cell Death in Lung and Colorectal Tumor Cell Lines. Marine Biotechnology, 2018
Filomena Sannino, Clementina Sansone, Christian Galasso, Sara Kildgaard, Pietro Tedesco, Renato Fani, Gennaro Marino, Donatella Pascale, Adrianna Ianora, Ermenegilda Parrilli, Thomas Ostenfeld Larsen, Giovanna Romano, Maria Luisa Tutino. Pseudoalteromonas haloplanktis TAC125 produces 4-hydroxybenzoic acid that induces pyroptosis in human A459 lung adenocarcinoma cells. Scientific reports 8 (1), 1190, 2018
C Galasso, C Corinaldesi, C Sansone. Carotenoids from Marine Organisms: Biological Functions and Industrial Applications. Antioxidants 96 (6(4)), 4, 2017.
Paola Cirino, Christophe Brunet, Martina Ciaravolo, Christian Galasso, Luigi Musco, Tomás Vega Fernández, Clementina Sansone, Alfonso Toscano. The Sea Urchin Arbacia lixula: A Novel Natural Source of Astaxanthin. Marine Drugs 187, 2017.
Clementina Sansone, Christian Galasso, Ida Orefice, Genoveffa Nuzzo, Elvira Luongo, Adele Cutignano, Giovanna Romano, Christophe Brunet, Angelo Fontana, Francesco Esposito, Adrianna Ianora: The green microalga Tetraselmis suecica reduces oxidative stress and induces repairing mechanisms in human cells. Scientific Reports 01/2017; 7., DOI:10.1038/srep41215
Patents
Clementina Sansone, Adrianna Ianora, Christian Galasso, Giovanna Romano. N. SIB BI5072R, "Tetraselmis suecica green microalga crude extract and its uses", 07/12/2017