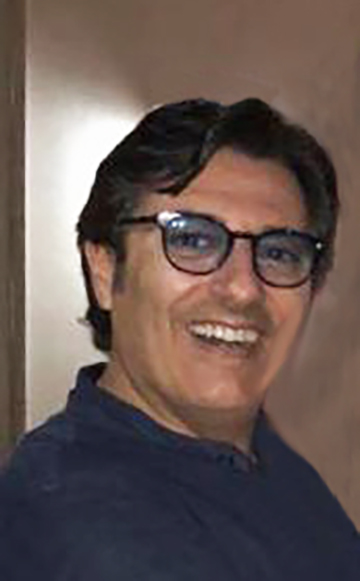 Technical Assistant ER V level
Section BEOM
Tel. +39 081 5833230
Fax: +39 081 7641355
e-mail gabriele.ferrandino(at)szn.it

Short CV
2001 - 2002 apprenticeship of Neurochemistry and Biochemistry techniques, at Biochemistry Laboratory of Seconda Università degli Studi of Naples, with professor B. De Luca, and at Neurobiology laboratory of Stazione Zoologica "Anton Dohrn", with Dr. A. D'Aniello.

2002 - 2003 work contract as CTER, research programme "I Geni dell'Uomo" at biochemistry and molecular biology laboratory of Stazione Zoologica "A. Dohrn".

2003 - 2010 assigned as CTER VI professional level, at first in neurobiology laboratory,with Dr. D'Aniello and then at Animal Physiology and Evolution laboratory with Dr. Euan Brown.

2004 - 2008 collaborated with professor Gabriella Chieffi Baccari- Department of Life Sciences, Seconda Università degli Studi of Naples, with prof. Adolfo Sadile Department of Experimental Medicine of Seconda Università degli Studi of Naples, withprof. Biagio D'Aniello - Department of Structural and Functional Biology of Università degli Studi di Napoli Federico II, with prof. Anna Di Cosmo - Department of Structural and Functional Biology of Università degli Studi di Napoli Federico II.

2009 - 2010 as CTER assigned at Animal Physiology and Evolution laboratory, to develop activity of support within the project ASSEMBLE and collaborated in programming and technical assistance in Biophysics experiments to the course "The first Kemali-IBRO Mediterranean School of Neuroscience".

2010 – 2014 assigned as CTER to Animal Physiology and Evolution laboratory with Dr. Fiorito.

2015 – Assigned as CTER to division BEOM
Tasks
General assistance for all researchers of division BEOM;
Landmark for technical assistance of laboratory:
a) Care of equipment regarding laboratories at I° floor east wing (pH meters, centrifuges, spectrophotometers, colorimeters, refrigerators, incubators, scales, freezers;
b) Technical assistance to PhD, undergraduates, students and freelancers for Dott. G. Fiorito.
c) Organization and support to technical and logistic needs of groups of research and activities in laboratory
d) Interface with various technical and administrative offices of the institute for all the researchers of the whole BEOM division.
Market researches computerized (MEPA) for quality of products and economic conditions of products and scientific equipements,relations with various representatives and providers, comparative trials and technical evaluation for the purchases of the entire division BEOM;
Total management of purchase orders on ordinary funds and European projects awarded and their use in the entire research team.
Publications
D'Aniello S, Fisher GH, Topo E, Ferrandino G, Garcia-Fernàndez J, D'Aniello A. N-methyl-D-aspartic acid (NMDA) in the nervous system of the amphioxus Branchiostoma lanceolatum. BMC Neurosci. 2007 Dec 20;8:109. PMID: 18096065 [PubMed - indexed for MEDLINE

Spinelli P, D'Aniello E, Ferrandino G, Topo E, Pulzella P, Pollio T, Fisher G, D'Aniello A. Methods for total determination of D-Aspartic acid, D-Glutamic acid and N-Methyl-D-Aspartic acid and for the specific determination of D-Aspartic acid. cap.2.5 pp.231-234 in the "D-Amino acids, a new frontier in amino acids and protein research- Practical Methods and protocols" Ed. R. Konno, et al., 2007 Nova Science Publishers

Spinelli P, Brown ER, Ferrandino G, Branno M, Montarolo PG, D'Aniello E, Rastogi RK, D'Aniello B, Baccari GC, Fisher G, D'Aniello A. D-aspartic acid in the nervous system of Aplysia limacina: possible role in neurotransmission. J Cell Physiol. 2006 Mar;206(3):672-81. PMID: 16222705 [PubMed - indexed for MEDLINE]

Boni R, Santillo R, Macchia G, Spinelli P, Ferrandino G, D'Aniello A. D-aspartate and reproductive activity in sheep. Theriogenology. 2006 Apr 15;65(7):1265-78. Epub 2005 Oct 3. PMID: 16203031 [PubMed - indexed for MEDLINE]

D'Aniello S, Spinelli P, Ferrandino G, Peterson K, Tsesarskia M, Fisher G, D'Aniello A. Cephalopod vision involves dicarboxylic amino acids: D-aspartate, L-aspartate and L-glutamate. Biochem J. 2005 Mar 1;386(Pt 2):331-40. PMID: 15491279 [PubMed - indexed for MEDLINE]

Ringraziamenti in pubblicazioni
Mohammed M. Idris, Michael C. Thorndyke, Euan R. Brown
Evidence for dynamic and multiple roles for huntingtin in Ciona intestinalis Invert Neurosci DOI 10.1007/s10158-013-0158-9 Springer-Verlag Berlin Heidelberg 2013

Euan R. Brown & Stefania Piscopo Synaptic plasticity in cephalopods; more than just learning and memory? Invert Neurosci DOI 10.1007/s10158-013-0150-4 Springer-Verlag Berlin Heidelberg 2013

Florian Razy-Krajka, Euan R Brown, Takeo Horie, Jacques Callebert, Yasunori Sasakura, Jean-Stéphane, Takehiro G Kusakabe and Philippe Vernier Monoaminergic modulation of photoreception in ascidian: evidence for a proto-hypothalamoretinal territory. BMC Biology 2012

Euan R. Brown ⁎, Stefania Piscopo Ion channels in key marine invertebrates; their diversity and potential for applications in biotechnology. Biotechnology Advances 2011

Nishino A, Okamura Y, Piscopo S & Brown ER A glycine receptor is involved in the organization of swimming movements in an invertebrate chordate. BMC Neuroscience 2009

Piscopo S. Sleep and its possible role in learning: a phylogenetic view. [Frontiers in Bioscience S1, 437-447, June 1, 2009]

Ruocco LA, Di Pizzo A, Carnevale UA, Murolo M, Sadile AG, Arra C, Topo E, D'Aniello A, Curcio A, Melisi D, Rimoli MG. Excitatory amino acids in the forebrain of the Naples high-excitability rats: neurochemical and behavioural effects of subchronic D-aspartate and its diethyl ester prodrug. Behav Brain Res. 2009 Mar 2;198(1):37-44

Ruocco LA, Gironi Carnevale UA, Sica A, Arra C, Topo E, Di Giovanni M, D'Aniello A, Sadile AG. Differential prepuberal handling modifies behaviour and excitatory amino acids in the forebrain of the Naples High-Excitability rats. Behavioural Brain Research 2009 Mar 2;198(1):29-36.

Chambery A, Parente A, Topo E, Fernandez G J, D'Aniello S, Characterization and Putative Role of a Type I Gonadotropin-Releasing Hormone in the Cephalochordate Amphioxus. Endocrinology, February 2009, 150(2):812-820

Bernardi G. DNA methylation in reptiles. Gene. 2006 Dec 30;385:122-7. Epub 2006 Aug 23. PMID: 17030462 [PubMed - indexed for MEDLINE]

Uliano E, Chaurasia A, Berna L, Agnisola C, D'Onofrio G, Does metabolism affect DNA properties and gene features? What we can learn from fish. Marine Genomics, November 2009

Poster
16-19 Settembre 2002 Co-autore di un poster al SIB 47th 2002 Joint Symposia with the British Biochemical Society, Palermo dal titolo: Presence of D-Aspartic acid in the retina of octopus vulgaris and its role in vision

20-25 Agosto 2007 Co-autore di un poster presentato al 10th International Congress on Amino Acids and Proteins, Greece, dal titolo: Occurence of D-Aspartate oxidase in the neuronal post-synaptic membranes