Salta il contenuto e passa al menu a fondo pagina
You are here:
Home

Staff

List of Personnel

Costa Valentina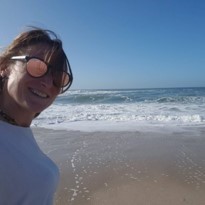 Researcher
Integrative Marine Ecology Department
Stazione Zoologica Anton Dohrn,
Contrada Torre Spaccata,
Località Torre Spaccata,
87071 Amendolara (Italy)
Tel.: +39 328 3882410
E-mail: valentina.costa(at)szn.it
Contatto Skype: vale.costa
Research Interests
My research activity is focused on the study of the ecology of seagrass marine ecosystems. The main purpose of my research is to answer ecological questions by applying an integrated approach based on three main keywords: map, protect and restore.
To map and protect any ecosystem, knowledge represents the starting point, and how different environmental variables can affect the ecosystem itself is also necessary. During my PhD, I worked on evaluating the effects of particular environmental gradients (acidification and confinement) on seagrass detritus decomposition dynamics and the colonization by marine invertebrates of the detritus itself. After my PhD, I focused my research on the effects of ocean acidification on seagrasses also using experimental approaches and mesocosm studies.
More recently, my interest has been more focused on the keyword restore. One approach to ecosystem restoration is the transplanting of organisms from non-impacted areas to areas that need to be reforested. For this reason, part of my research activity is focused on the evaluation of transplantation techniques used for marine seagrass restoration activities.
I am also very interested in new open-source technologies (e.g. Arduino) and how these can be applied to the study of the ecology of marine ecosystems.
Selected Publications
Costa V, Flindt MR, Lopes M, Coelho PJ, Costa AF, Lillebø AI, Sousa AI. (2022) Enhancing the resilience of Zostera noltei seagrass meadows against Arenicola spp. bio-invasion: A decision-making approach. J Environ Manage, 302(Part A): 113969
Costa V, Chemello R, Iaciofano D, Lo Brutto S, Rossi F. (2021) Small-scale patches of detritus as habitat for invertebrates within a Zostera noltei meadow. Mar Environ Res, 171:105474
Costa V, Serôdio J, Lillebø AI, Sousa AI. (2021) Use of hyperspectral reflectance to non-destructively estimate seagrass Zostera noltei biomass. Ecol Indic, 121: 107018
Costa V, Mazzola A, Rossi F, Vizzini S. (2019) Decomposition rate and invertebrate colonization of seagrass detritus along a hydrodynamic gradient in a Mediterranean coastal basin: the Stagnone di Marsala (Italy) case study. Mar Ecol, 40(6): e12570
de Ruijter NV, Miliou A, Costa V. (2019) Assessment of microplastics distribution and stratification in the shallow marine sediments of Samos Island, Eastern Mediterranean Sea, Greece. Mediterr. Mar. Sci., 20(4) Special Issue: 736-744
Costa V, Mazzola A, Vizzini S. (2014) Holothuria tubulosa Gmelin 1791 (Holothuroidea, Echinodermata) enhances organic matter recycling in Posidonia oceanica meadows. J Exp Mar Biol Ecol, 461: 226-232
Vizzini S, Di Leonardo R, Costa V, Tramati DC, Luzzu F, Mazzola A. (2013) Trace element bias in the use of CO2-vents as analogues for low-ph environments: implication for contamination levels in acidified oceans. Estuar Coast Shelf Sci, 134(1): 19-30
Vizzini S, Costa V, Tramati DC, Gianguzza P, Mazzola A. (2013) Trophic transfer of trace elements in an isotopically constructed food chain from a semi-enclosed marine coastal area (Stagnone di Marsala, Sicily, Mediterranean). Arch Environ Contam Toxicol, 65(4): 642-653
Colombo F, Costa V, Dubois SF, Gianguzza P, Mazzola A, Vizzini S. (2013) Trophic structure of vermetid reef community: High trophic diversity at small spatial scales. J Sea Res, 77: 93-99
Vizzini S, Colombo F, Costa V, Mazzola A. (2012) Contribution of planktonic and benthic food sources to the diet of the reef-forming vermetid gastropod Dendropoma petraeum in the western Mediterranean. Estuar Coast Shelf Sci, 96: 262-267
Databases and repositories (Figshare, arXiv)
Costa V, Chemello R, Iaciofano D, Lo Brutto S, Rossi F. (2021) Dataset from: Small-scale patches of detritus as habitat for invertebrates within a Zostera noltei meadow. [Data set]. Zenodo.
https://doi.org/10.5281/zenodo.5304675