Loggerhead sea turtles are abundant in the Western Mediterranean.
Yet not much is known of the actual at-sea distribution and habitat utilization of these charismatic marine animals. Pioneer satellite tracking studies showed prolonged presence of individual turtles in certain coastal areas, however, these are not ideal areas for tracking of animals through the satellite system because of a broadband noise that hampers the sending of messages from the turtle tag to the satellite. This leads to high location inaccuracies and error messages that precludes from any detailed spatial analysis of loggerhead turtle habitat use and home ranges.
Therefore, we have initiated a pilot study aiming at investigating small-scale movements of loggerhead turtles in coastal habitats by using the mobile phone network (GSM) for data transfer through simple text messages (SMS). The data contain high accuracy GPS locations, temperature profiles of the water column and turtle dive depths. So far we have equipped 4 turtles with a GSM tag and, as expected, there were sufficient connections to the phone network sending up to 26 high accuracy GPS locations per day, an unimaginable high number for this region considering satellite telemetry.
Today we are working on increasing the number of turtles that are released with GSM tags to monitor near-shore movements of sea turtles with the aim to produce the first detailed map of area use by loggerhead turtles foraging in coastal areas of the Western Mediterranean. Furthermore, we continue to develop this technology in close collaboration with the producers as well as other experts in animal tracking, to adapt the tags more and more to our scientific purposes, to provide essential knowledge for the conservation and management of these endangered marine reptiles.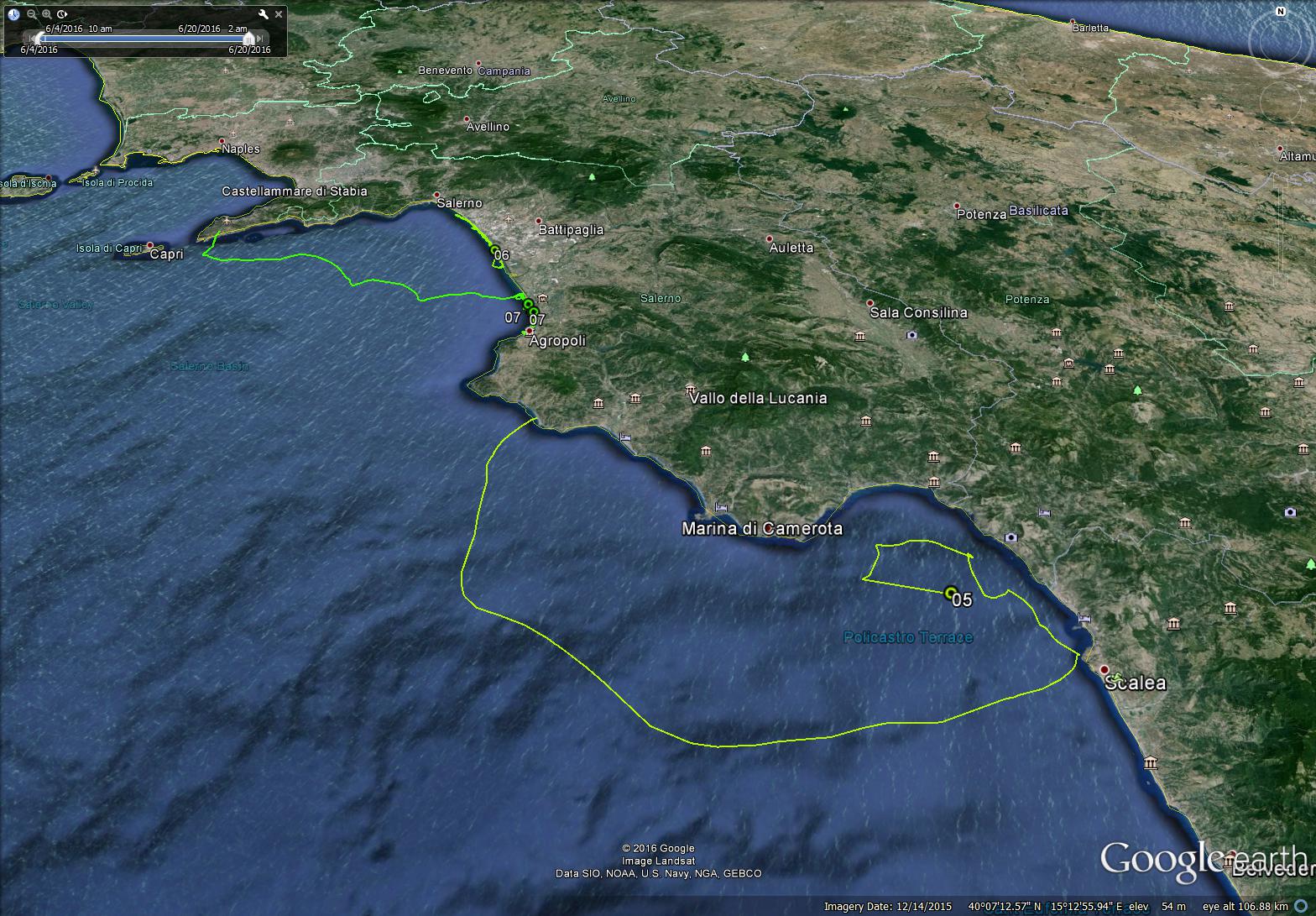 Migratory routes of loggerhead turtles reconstructed from GPS positions. No. 7: turtle "Annasara", released on June 4th in the Marine Protected Area of Punta Campanella; No 6: turtle "Gonzala", released on June 6th at a beach of Battipaglia; No 8: turtle "Dolores", who nested on a beach at Acciaroli on June 14th.