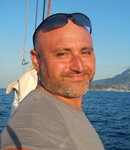 Researcher
Dipartimento di Ecologia Marina Integrata
Tel. +39 081 5833280
Fax: +39 081 7641355
e-mail domenico.dalelio(at)szn.it
Skype: freedomingo
Interessi di ricerca
Mi occupo principalmente di ecologia ed evoluzione del plancton. La mia produzione scientifica è multidisciplinare e spazia dalla biologia ed evoluzione dei microorganismi acquatici all'ecologia di comunità, con particolare riferimento alle reti alimentari e alla dinamica dei sistemi socio-ecologici. Sono coinvolto in progetti di ricerca di base, inerenti all'esplorazione della complessità biologica degli esseri viventi, e applicativi, per la gestione delle risorse marine. Attratto dall'interazione tra natura e società, divulgo la scienza attraverso scrittura scientifica e musica.
Principali Pubblicazioni
D'Alelio D, Russo L, Hay Mele B, and Pomati F (2021) Intersecting Ecosystem Services Across the Aquatic Continuum: From Global Change Impacts to Local, and Biologically Driven, Synergies and Trade-Offs. Frontiers in Ecology and Evolution 9 (2021): 199.
Mele BH, Russo L, Crocetta F, Gambi C, Dell'Anno A, Danovaro R, Guglielmo R, Musco L, Patti FP, Riginella E, Tangherlini M, Ribera d'Alcalà M, D'Alelio D (2020) Ecological assessment of anthropogenic impact in marine ecosystems: the case of Bagnoli Bay. Marine Environmental Research Mar 10:104953. https://doi.org/10.1016/j.marenvres.2020.104953
D'Alelio D, Rampone S, Cusano LM, Morfino V, Russo L, Sanseverino N, Cloern JE, Lomas MW (2020) Machine learning identifies a strong association between warming and reduced primary productivity in an oligotrophic ocean gyre. Scientific reports Feb 25;10(1):1-2. https://doi.org/10.1038/s41598-020-59989-y
D'Alelio D, Hay Mele B, Libralato S, Ribera d'Alcalà M, Jordán F (2019) Rewiring and indirect effects underpin modularity reshuffling in a marine food web under environmental shifts. Ecology and evolution Oct;9(20):11631-46. https://doi.org/10.1002/ece3.5641
Hay Mele B, Russo L, D'Alelio D (2019) Combining marine ecology and economy to roadmap the integrated coastal management: a systematic literature review. Sustainability. 2019 Jan;11(16):4393. https://doi.org/10.3390/su11164393
D'Alelio D, Eveillard D, Coles VJ, Caputi L, Ribera d'Alcalà M, Iudicone D (2019) Modelling the complexity of plankton communities exploiting omics potential: from present challenges to an integrative pipeline. Current opinion in systems biology 13:68-74. https://doi.org/10.1016/j.coisb.2018.10.003
Ruggiero MV*, D'Alelio D*, Ferrante MI, Santoro M, Vitale L, Procaccini G, Montresor M (2018) Clonal expansion behind a marine diatom bloom. The ISME Journal 12: 463-472. https://doi.org/10.1038/ismej.2017.181
Cianelli D*, D'Alelio D*, Uttieri M, Diana S, Zingone A, Zambianchi E, Ribera d'Alcalà M (2017) Disentangling physical and biological drivers of phytoplankton dynamics in a coastal system. Scientific Reports 7: 15868. https://doi.org/10.1038/s41598-017-15880-x
Stec KF, Caputi L, Buttigieg PL, D'Alelio D, Ibarbalz FM, Sullivan M, Chaffron S, Bowler C, Ribera d'Alcala M, Iudicone D (2017). Modelling plankton ecosystems in the meta-omics era. Are we ready? Marine Genomics 32:1-17. https://doi.org/10.1016/j.margen.2017.02.006
D'Alelio D, Libralato S, Wyatt T, Ribera d'Alcalà M (2016) Ecological-network models link diversity, structure and function in the plankton food-web. Scientific Reports 6: 21806. https://doi.org/10.1038/srep21806