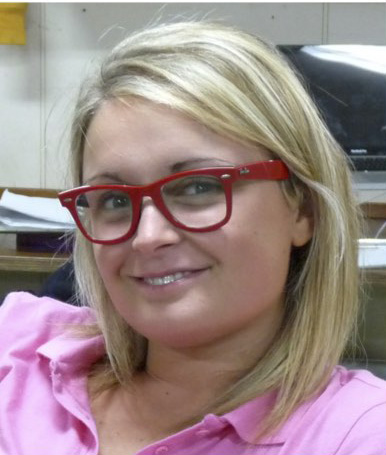 Collaboratore Tecnico
SEDE SICILIA - Dipartimento di Biologia ed Evoluzione Organismi Marini
Stazione Zoologica Anton Dohrn
Sicily Marine Center, Messina, Italy
Contrada Porticatello, 29 – Villa Pace, 98167

E-mail: Questo indirizzo email è protetto dagli spambots. È necessario abilitare JavaScript per vederlo.
Skype: Erika.arcadi
Supervisor: Teresa Romeo
Appointed on project: PON- Marine Hazard
Interessi di Ricerca
Sin dall'inizio dei miei studi il mio interesse è sempre stato rivolto agli ambienti marini estremi, a partire dagli ambienti marini profondi, i bacini anossici iperalini profondi del Mar Mediterraneo, i laghi meromittici, le saline, fino ad oggi, specializzandomi nel funzionamento microbico degli ambienti idrotermali. Le attività sono rivolte all'ecologia microbica marina e alle biotecnologie marine, indagando sul ruolo che gli estremofili hanno in questi ambienti così inospitali. L'analisi della comunità microbica, così come della frazione coltivabile, così come la ricerca di specifici geni coinvolti in particolari reazioni biochimiche ci forniscono molte informazioni sul funzionamento di questi ecosistemi ostili e ancora poco studiati. Il ruolo delle analisi molecolari a qualsiasi livello e in qualsiasi campo è il modo più inconfutabile e preciso per ottenere informazioni. Da alcuni anni la mia ricerca si è allargata anche agli organismi superiori, con l'analisi di marcatori genetici (COI, 28S, CR) per l'identificazione tassonomica e la genetica delle popolazioni.
Principali Publbicazioni
Battaglia P, Pedà C, Rizzo C, Stipa MG, Arcadi E, Longo F, Ammendolia G, Cavallaro M, Rao I, Villari A, Calogero R, Consoli P, Sinopoli M, Andaloro F, Romeo T (2023) How Rare Are Argonautoidea Octopuses in the Mediterranean? New Data from Stranding Events, Stomach Contents and Genetics. Biology 12(3),420; https://doi.org/10.3390/biology12030420.
Calogero R, Rizzo C, Arcadi E, Stipa MG, Consoli P and Teresa Romeo (2022) Isolation and identification of Luminescent Bacteria in Deep Sea marine organisms from sicilian waters (Mediterranean Sea). Journal of Marine Science and Engeenenring, 10 (8) 1113.
Arcadi E*, Rastelli E*, Tangherlini M, Rizzo C, Mancuso M, Sanfilippo M, Esposito V, Andaloro F and Romeo T (2021) Shallow-water hydrothermal vents as natural accelerators of bacterial antibiotic resistance in marine coastal areas. Microorganisms MDPI, https://doi.org/10.3390
Rizzo C*, Arcadi E*, Calogero R, Sciutteri V, Consoli P, Esposito V, Canese S, Andaloro F and Romeo T (2021) Ecological and biotechnological relevance of Mediterranean hydrothermal vent systems. Minerals MDPI https://doi.org/10.3390
Leoni C, Volpicella M, Fosso B, Manzari C, Piancone E, Dileo M, Arcadi E, Yakimov MM, Pesole G, Ceci L (2020). A differential metabarcoding approach to describe taxonomy profiles of Bacteria and Archaea in the Saltern of Margherita di Savoia (Italy). Microrganisms , 8 (6), 936.
La Cono V, Messina E, Rohde M, Arcadi E, Ciordia S, Crisafi F, Denaro R, Ferrer M, Giuliano L, Golyshin PN, Golyshina OV, Hallsworth JE, La Spada G, Mena MC, Shevchenko MA, Smedile F, Sorokin DY, Toshchakov SV, Mushegian A, Yakimov MM (2020). Symbiosis between nanohaloarchaeon and haloarchaeon is based on utilization of different polysaccharides. PNAS, 117 (33): 20223-20234.
Golyshina OG, Toshchakov SV, Marakova KS, Gavrilon SN, Korzhankov AA, La Cono V, Arcadi E, Nechitaylo TY, Ferrer M, Kublanov IV, Wolf YI, Yakimov MM, Golyshin PN (2017). ARMAN archaea depend on association with euryarcheal host in culture and in situ. Nature Communication vol. 8.
Messina E, Sorokin DY, Kublanov IV, Toshchakov S, Lopatina A, Arcadi E, Smedile F, La Spada G, La Cono V and Yakimov MM (2016). Complete genome sequence of "Halanaeroarchaeum sulfurireducens" M27-­SA2, a sulfur-­‐ reducing and acetate oxidizing haloarchaeon from the deep sea hypersaline anoxic lake Medee. Standards in Genomic Science.
La Cono V, Arcadi E, La Spada G, Barreca D, Laganà G, Bellocco E, Catalfamo M, Smedile F, Messina E, Giuliano L, and Yakimov MM (2015). A three-­component microbial consortium from Deep-­sea salt-­satured anoxic Lake Thetis links anaerobic glycine betaine degradation with methanogenesis. Microrganisms 3: 500-­517.
La Cono V, Smedile F, La Spada G, Arcadi E, Genovese M, Ruggeri G, Genovese L, Giuliano L, Yakimov MM (2015). Shifts in the meso-­and bathypelagic archaea communities composition during recovery and short-­term handing of decompressed deep-­sea samples. Environmental microbiology reports 3: 450 -­ 459.
Yakimov MM, La Cono V, La Spada G, Bortoluzzi G, Messina E, Smedile F, Arcadi E, Borghini M, Ferrer M, Schmitt-­Kopplin P, Hertkorn N, Cray JA, Hallsworth JE, Golyshin PN, Giuliano L (2014). Microbial community of deep-­sea lake Kryos seawater-­brine interface is active below the chaotropicity limit of life as revealed by recovery of mRNA. Environmental Microbiology.
Yakimov MM, La Cono V, Smedile S, Crisafi F, Arcadi E, Leonardi M, Decembrini F, Catalfamo M, Barigela R, Ferrer M, Golyshin PN, Giuliano L, (2014). Heterotrophic bicarbonate assimilation is the main process of de novo organic carbon synthesis in hadal zone of Hellenic Trench, the deepest part of Mediterranean Sea, Environmental Microbiology Report.
Yakimov MM, La Cono V, Slepak VZ, La Spada G, Arcadi E, Messina E, Borghini M, Monticelli LS, Rojo D, Barbas C, Golyshina OV, Ferrer M, Golyshin PN, Giuliano L (2013). Microbial life in the Lake Medee, the largest deep-­sea salt-­satured formation, Nature Scientific report.
La Cono V,La Spada G, Arcadi E, Placenti F, Smedile F, Ruggeri G, Michaud L, Raffa C, De Domenico E, Sprovieri M, Mazzola S, Genovese L, Giuliano L, Slepak VZ, Yakimov MM (2012). Partaking of Archaea to biogeochemical cycling in oxygen-­‐deficient zones of meromictic saline Lake Faro (Messina, Italy), Environmental Microbiology.