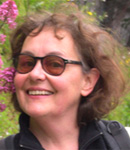 Research Director
Integrative Marine Ecology Deparment
Tel. +39 081 5833259
Fax: +39 081 7641355
e-mail: marina.montresor(at)szn.it
Skype: marina.montresor1
Google Scholar: https://scholar.google.com/citations?user=qbWLPl4AAAAJ&hl=en
ORCID: https://orcid.org/0000-0002-2475-1787
Research interests
My main research interests focus on life cycles of unicellular marine microalgae, on the role they have in the ecology, population dynamics and genetic structure of the species. Phytoplankton cells undergo transitions between an actively growing phase, during which biomass is increasing, and other life phases in which cells are dormant or quiescent, undergo sexual reproduction or die. These phase transitions represent an organism's life cycle. In collaboration with PhD students and colleagues, we have investigated various aspects of the life cycle of the marine diatom Pseudo-nitzschia multistriata, including the factors that induce the sexual phase and the occurrence of sex in the natural environment through experimental and modelling approaches. We are now using transcriptomic approaches to gain insights on the mating system of this diatom that has a heterothallic life cycle. We also studied the germination dynamics of diatoms spores at the LTER-MC station in the Gulf of Naples and plan to investigate the cues that induce the formation and hatching of these resting stages.
Phytoplankton biodiversity is another topic of interest, where we couple the classical morpho-taxonomy with molecular approaches to better define species and populations. Research is focused at the LTER-MC station, where we integrate the study of the phytoplankton community with NGS data, and where we carry out a multi-annual study of the population genetic structure of the diatom Pseudo-nitzschia multistriata.
Selected Publications
Piredda, R., Tomasino, M., D'Erchia, A., Manzari, C., Pesole, G., Montresor, M., Kooistra, W., Sarno, D. & Zingone, A. 2017. Diversity and temporal patterns of planktonic protist assemblages at a Mediterranean Long Term Ecological Research site. FEMS Microbiol. Ecol. 93:fiw200.
Montresor, M., Vitale, L., D'Alelio, D. & Ferrante, M. I. 2016. Sex in marine planktonic diatoms: insights and challenges. Prog. Phycol. Res.:DOI:10.1127/pip/2016/0045.
Patil, S., Moeys, S., von Dassow, P., Huysman, M. J. J., Mapleson, D., De Veylder, L., Sanges, R., Vyverman, W., Montresor, M. & Ferrante, M. I. 2015. Identification of the meiotic toolkit in diatoms and exploration of meiosis-specific SPO11 and RAD51 homologs in the sexual species Pseudo-nitzschia multistriata and Seminavis robusta. BMC Genomics 16:doi: 10.1186/s12864-015-1983-5.
Di Dato, V., Musacchia, F., Petrosino, G., Patil, S., Montresor, M., Sanges, R. & Ferrante, M. I. 2015. Transcriptome sequencing of three Pseudo-nitzschia species reveals comparable gene sets and the presence of Nitric Oxide Synthase genes in diatoms. Scientific Reports doi:10.1038/srep12329.
D'Alelio, D., Mazzocchi, M. G., Montresor, M., Sarno, D., Zingone, A., Di Capua, I., Franzè, G., Margiotta, F., Saggiomo, M. & Ribera d'Alcalà, M. 2015. The green-blue swing: plasticity of plankton food-webs in response to coastal oceanographic dynamics. Marine Ecology 36:1155–70.
Tesson, S. V. M., Montresor, M., Procaccini, G. & Kooistra, W. H. C. F. 2014. Temporal changes in population structure of a marine planktonic diatom. PLoS One 10.1371/journal.pone.0114984.
Scalco, E., Stec, K., Iudicone, D., Ferrante, M. I. & Montresor, M. 2014. The dynamics of sexual phase in the marine diatom Pseudo-nitzschia multistriata (Bacillariophyceae). J. Phycol. 50:817-28.
Godhe, A., Kremp, A. & Montresor, M. 2014. Genetic and microscopic evidence for sexual reproduction in the centric diatom Skeletonema marinoi. Protist 165:401-16.
Montresor, M., Di Prisco, C., Sarno, D., Margiotta, F. & Zingone, A. 2013. Diversity and germination patterns of diatom resting stages at a coastal Mediterranean site. Marine Ecology Progress Series 484:79-95.
Assmy, P., Smetacek, V., Montresor, M., Klaas, C., Henjes, J., Strass, V. H., Arrieta, J. M., Bathmann, U., Berg, G. M., Breitbarth, E., Cisewski, B., Friedrichs, L., Fuchs, N., Herndl, G. J., Jansen, S., Krägefsky, S., Latasa, M., Peeken, I., Röttgers, R., Scharek, R., Schüller, S. E., SteigenbergerS., Webb, A. & Wolf-Gladrow, D. 2013. Thick-shelled, grazer-protected diatoms decouple ocean carbon and silicon cycles in the iron-limited Antarctic Circumpolar Current. Proceedings of the National Academy of Sciences 110:20633–38.