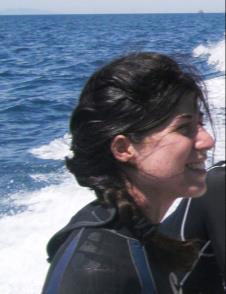 Scholarship
Marine Animal Conservation and Public Engagement Department
Stazione Zoologica Anton Dohrn
Turtle Point, via nuovo macello 16,
80055 Portici (NA)- Italia
E-mail: This email address is being protected from spambots. You need JavaScript enabled to view it.
Contatto Skype: pasanisieugenia
Research Interests
Personal research at SZN focuses on the systematic monitoring of mega and macrofauna, floating marine litter, and marine traffic onboard of ferries in the Tyrrhenian Sea. This activity is part of the monitoring programs planned within the Marine Strategy Framework Directive, the Fixed Line Transect Mediterranean Network (link), and the CONCEPTU MARIS Life Project. In addition, a particular interest was developed in the study of loggerhead Caretta caretta distribution in the Tyrrhenian sea, thanks to the analysis of telemetry data collected over the last few years in the area. My research aims to investigate environmental and anthropic factors influencing the spatial behavior of marine turtles and to acquire valuable insights to address the conservation of this species in the area.
Selected Publications
Eugenia Pasanisi, Adriana A. Cortés-Gómez, Marcos Pérez-López, Francisco Soler, David Hernández-Moreno, Cristiana Guerranti, Tania Martellini, Gisela Fuentes-Mascorro, Diego Romero, Alessandra Cincinelli, Levels of perfluorinated acids (PFCAs) in different tissues of Lepidochelys olivacea sea turtles from the Escobilla beach (Oaxaca, Mexico). Science of The Total Environment, Volume 572, 2016, Pages 1059-1065.
Francesco Masnadi, Enrico Nicola Armelloni, Stefano Guicciardi, Giulio Pellini, Saša Raicevich, Carlotta Mazzoldi, Martina Scanu, Laura Sabatini, Anna Nora Tassetti, Carmen Ferrà, Fabio Grati, Luca Bolognini, Filippo Domenichetti, Roberto Cacciamani, Federico Calì, Piero Polidori, Gianna Fabi, Francesca Luzi, Otello Giovanardi, Valentina Bernarello, Eugenia Pasanisi, Gianluca Franceschini, Cristina Breggion, Elisa Bozzetta, Andrea Sambo, Giuseppe Prioli, Andrea Gugnali, Elena Piccioni, Fabio Fiori, Fabrizio Caruso, Giuseppe Scarcella, Relative survival scenarios: an application to undersized common sole (Solea solea L.) in a beam trawl fishery in the Mediterranean Sea, ICES Journal of Marine Science, Volume 77, Issue 7-8, December 2020, Pages 2646–2655.